Check out what we can make from your deer! You get your own meat back at Cordray's. We also do all the processing and cooking right here in our plant!
Cordray's has been providing the finest quality wild game processing in the area for over 25 years. Owner, Michael Cordray, graduated from Clemson University with a BS degree in Animal Science and a concentration in Meat Science. He has earned certification through the USDA for HACCP (Hazard Analysis of Critical Control Points). His son, Kenneth Cordray, who also does all the taxidermy, graduated from Clemson with a BS degree in Animal Science with a concentration in Animal Agri-Business. We have been in the meat business in the Lowcountry for 4 generations. We take wild game processing seriously!

We've been called "picky", "fussy", and, probably, "downright aggravating" about our insistence that we only process good quality, clean venison. We are all of those things and more.
Every year we send hundreds of pounds of venison right back down the driveway because it is unacceptable for processing. Don't let this happen to you! You expect to get good quality venison to feed your family and we guarantee that's what you'll get from Cordray's. It all starts with what you bring in!
You can bring your deer as:
1. Fresh kill - We skin, gut, & wash your deer. Each carcass is labeled with your name,the date killed and given a work order number. It is hung in coolers specially monitored for humidity and temperature to keep the carcass in its best condition.
It is never cold enough in the Lowcountry to leave a deer overnight and bring it in the morning without field dressing. We use the 2 hour/4 hour rule. If you can't bring it right in, be sure to field dress (and pack the body cavity with ice) within 2 hours and get the whole thing under refrigeration within 4 hours.
2. Pieces - When you clean your own deer and bring it to us in pieces, we will thoroughly inspect each piece before accepting it for processing. To ensure both your safety and for us to be able to process your meat, be sure to pay attention to the surface you use for preparation. It and the knives you use must be clean. Have clean running water available and wash everything! Pieces should be layered in ice and the water drained off and new ice added as necessary. Don't wait too long! Pieces will only keep a few days in a cooler. We hang your meat pieces on a metal tree label it with your name, date killed and work order number.
3. Already skinned deer - When you bring in already skinned deer, we carefully inspect, trim and wash your carcasses. If your deer cooler is excessively dry or if the temperature isn't low enough, you may have mold growth. To be sure we can accept your deer for processing, be sure to monitor your cooler and get the meat to us quickly - no more than 3 to 5 days. Already skinned deer are tagged with your name, kill date, and work order number.
4. Frozen - We no longer accept and process frozen meat. Please bring in pieces quickly after harvest.
After your deer hangs 3 to 5 days, we cut it. Each work order is matched with your deer on the cutting table and your instructions for cutting are followed to prepare the meat as you ordered.


Be sure to give us a few "hanging days" if you bring in already skinned deer.


---

Each deer is cut, packed, and vacuum sealed separately. All the cuts, cube steak, burger, and fresh sausage comes from your own deer.


That's why you must order at least 10 lbs. of different burger or sausage flavors at a time. Since we grind yours separately, we have to have enough meat to run through the grinder for your order. Here's 3 generations of Cordrays at the cutting table working on beef.


---
Fresh Venison Cuts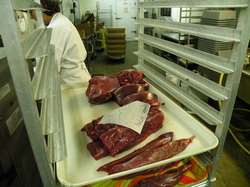 Starting from the front of the animal, you can order:
Neck roasts
Shoulder roasts
Loins - cut into 4 roasts, sliced into medallion size steaks, or sliced into butterfly steaks
Hams - left whole bone-in, whole boneless, cut in half bone-in or boneless, or sliced into steaks
(Photo Note: This tray is labeled with a hunter's name and order number. He's getting tenderloins, loin roasts, and hams cut in half and boneless.)


---
Cube Steak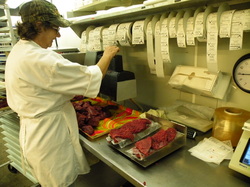 Let us take the meat of the shoulders, loins and/or hams and run it through the cuber. That will tenderize even the toughest cut of meat. Each frozen pack contains a meal sized portion of about 6 pieces.

(In this photo, Jean Parks is running meat through the cubing machine. Notice the paper to her right? That's Mr. Case's number and name to be sure that he gets cube steak made from the deer he brought in.)

---
Bulk Burger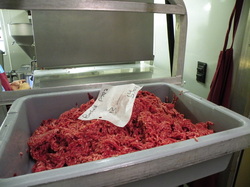 Burger is made from any cut of the deer. Bulk burger comes in 1.3 lb. frozen chubs. Order just the right mixture for your family.

Lowfat - 15% trim added
Lean - 10% trim added
Extra Lean - 5 % trim added
No Fat - only lean venison
Bacon burger - We add some delicious bacon to a really delicious mix.

(Photo Note: Each hunter's meat is labeled with both the name and order number. That's how we keep your meat separate and can be sure to grind it to your specifications!)

---
Burger Patties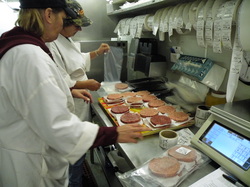 Quarter pound patties, separated by paper, are frozen for a quick and scrumptious supper!
Regular patties- These are done in the lowfat mixture so they stay pattied on the grill.
Jalapeno patties - Jalapeno peppers are added to spice up your barbecue!
Bacon burger patties - My favorite! Moister and more flavorful than regular patties.



---
Fresh Sausage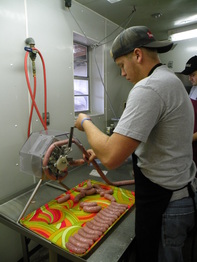 Fresh sausage comes in 3 different forms and 7 different flavors. You'll need at least 10 lbs of meat for each kind that you order.
Bulk sausage - Packaged like the burger in 1.3 lb chubs.
Linked sausage - Big links are packed 6 to 8 links to a bag.
Breakfast Pinky- sized Links
- These cook up fast and crisp for a hurry-up breakfast!
Flavors
Hot, Medium, Mild are our basic flavors.
Maple flavor is a favorite for folks getting the pinky links. It's a kid pleaser!
Bratwurst flavor is only sold in link form. You can get big links or pinky links.
Cordray Brothers
- A truly one-of-a-kind flavor! Hands down our best seller! Want to read the story?
Click here.
(Photo Note: Here Ryan Kirkland uses the linker to prepare a customer's order. You get your own meat back in fresh sausage products.
)
---
Meat Loaf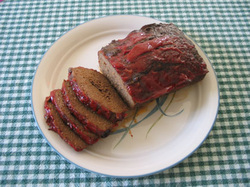 These 2 lbs loaves are already seasoned, ready to cook. Thaw them, then cooked 1.5 hours on 350 degrees for a delicious meal!
Photo Note: This shows a meat loaf meal suggestion. For recipes with our
products,
click here
. Meat loaf, salisbury steak and the smoked items require batching - several orders together - because of how the seasonings are packaged.
---
Salisbury Steak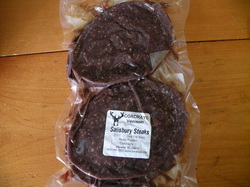 Specially seasoned patties go great with gravy and rice! I like to cook them on the grill for a differently delicious burger! (4 burger steaks come per pack)

---
Smoked Venison Products
Our specialties! Everything is made to perfection here on our farm!

Smokies


Great for tailgating! Add to your crockpot with a little bbq sauce for a scrumptious treat!


---

Peppers & Cheddar Smoked Sausage


Our biggest seller! Smoked sausage with fresh local jalapenos and cheddar cheese cooked right in.


---

Cheddarwurst


This is my favorite thing we make! Smoked sausage with cheese cooked right in.


---

Cordray's Gold


Our own creation - a rectangular


---

Bacon & Cheddar


Try this Gold with cheese chopped up in scrambled eggs!


---

Hot Bacon & Cheddar


We've added fresh jalapenos to this one.


---

Jerky


One of best selling products. It takes 3 lbs. of fresh venison to cook down to 1.2 lb. packs.


---

Summer Sausage - big stick


These 3 lb. sticks were the very first smoked product we offered 20 years ago. It is still a great seller today!


---

Summer Sausage Gift Stick


We call them Gift Sticks because they fit perfectly in the paper wine bags for gift giving!


---

Hot & Cheesy Summer Sausage


Half-sized summer sausage with cheddar cheese and fresh local jalapeno peppers.


---

Sweet & Spicy Summer Sausage


Our newest flavor! You have to try it to believe how good it is.


---

Salami


Sliced in 1 pound packs


---

Whole smoked venison hams


Let us smoke your venison hams for a fully cooked moist and delicious treat!
(Photo Note: Michael is hanging these hams in the smoker. We charge per ham regardless of size. You get your ham back.)


---

Hickory Smoked Sliced Ham


Batched smoked hams allow you to order fully cooked sliced ham in 1/2 lb. packs.


---

Pastrami


Make some perfect pastrami on rye sandwiches! Each 1/2 lb. pack makes 2 to 3 sandwiches.


---

Deli Roast Venison


Takes like roast beef! Thin sliced and in half-pound pack.


---

Snack Sticks


Kind of like SlimJims, only delicious!


---

Cheddar Cheese Snack Sticks


All our snacks sticks are ready to eat. They make delicious holiday trays.


---

Jalapeno & Cheddar Snack Sticks


Our best selling snack sticks!


---

Smoked Sausage


Sold in 1 lb. rope packages, these are great for making Frogmore Stew!


---

Kielbasa


Sometimes known as Polish Sausage, this one's a crowd pleaser!


---

Franks


Picture to come. These hotdogs have been in the works for about 5 years and we've finally perfected the perfect dog. If you haven't tried them in a while, give them another try. They're great!


---

Bologna


Its first name is VENISON.


---

Bologna & Cheese


Bologna with cheese cooked right in.


---

Bologna with Cheese & Jalapeno


Bologna with a kick!


---